Vista's Flip 3D
If you're using the Home Premium, Business, Enterprise or the Ultimate version of Windows Vista, there's a cool little feature installed on your computer that you may not know about. It's called Windows Flip 3D
If you're using the Home Premium, Business, Enterprise or the Ultimate version of Windows Vista, there's a cool little feature installed on your computer that you may not know about. It's called Windows Flip 3D.
To try it out real quick, load three or four pages at once. Now, on your keyboard hold down Ctrl, the Windows Key and Tab. Cool, huh! And if you're like me and are still hanging on for dear life to XP on one or more of your computers, there is a Flip 3D for our XP machines as well. More about that later.

Windows Flip 3D is a cool utility that you can use to quickly preview all of your open windows. You can see them all at once in what Microsoft calls a Stack. This way you don't have to click programs on the Taskbar to open and close them. Using Flip 3D, you can just flip through the Stack until the one you want to work with is the first one in the Stack and then hit your Enter key and there it is. Or better yet, click any window in the Stack to bring it up to be viewed or worked on.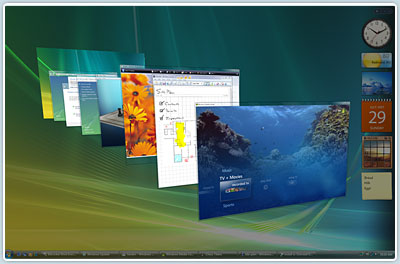 Vista's Flip 3D
You can use your Arrow Keys to shuffle backward and forward through the Stack. Or you can use your mouse's wheel to go forward or backward through the Stack. You can also use the Tab key to go forward through the Stack. Shift + Tab will take you backward through the Stack.

There is an add-on to this neat little utility that you might be interested in called Vista Flip 3D Activator. You can read about it and download it here from Softpedia. What this add-on does is allow you to choose a corner of your Desktop to click to activate Flip 3D. I don't have this add-on installed on my Vista machine so I can't vouch for it or tell you much about it other than what it purports to do. I can't see how it would make the activation of Flip 3D much easier than it is using the keyboard combination: Ctrl, Windows Key and Tab but maybe there's more to Vista Flip 3D Activator than I'm aware of.


This video is not very instructive but it will show you what Flip 3D looks like cycling through tons of open windows. Gee, whoever made this video must have had every program on his computer plus tons of browser windows open. Don't try this at home unless you've got at least 4 Gigs of RAM.