What Is StatCounter
StatCounter is cool software that monitors visitors to your Website
Statcounter is a powerful javascript based Web analytical tool that is incredibly useful in monitoring visits to your Web site. There is a lot to love about Statcounter. First of all its free version does everything its paid versions do. The only difference in the free and paid versions is the amount of pageloads per month and the log size. The free version allows for 250,000 pageloads (visits plus visitor activity to your site) per month and has a maximum log size of 500 which is large enough for most blogs and Web sites.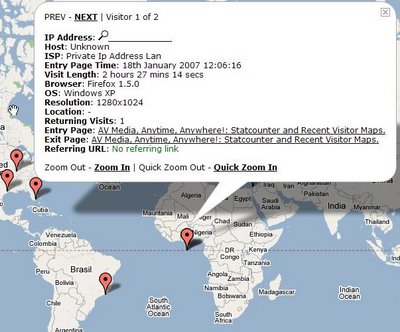 StatCounter's Recent Visitors Google Map Tool.
Should your site become so popular that it attracts more than 250,000 visitors per month, you can up-grade to 1,500,000 pageloads/month with a log-size of 1,500 for $9 per month. Pageloads are simply visitors to your site and the hit counts they create as they click through the pages on your site. Log-size refers to the statistics compiled by Statcounter and made available to you about your visitors. For instance, with the free version Statcounter's Popular Pages tool will show you the most heavily visited pages for your last 500 pageloads. Or the Recent Visitor Google Map tool will plot your last 500 pageloads on a Google Map like the one in the above image.
There's more to love about Statcounter. For instance, unlike some Web tracking software, Statcounter is very simple to use. Statcounter doesn't spam you with unsolicited email. They don't put anything at all on your site that your visitors can see, although you can opt to have visible counters on your pages should you choose to. Statcounter allows you to have several "projects" on a single account. This means that if you have several different Web sites you can track them all on the same Statcounter page.
Signing up and getting started using Statcounter is extremely simple. All you need to do is go to Statcounter.com and create an account. Follow the simple instructions and then copy and paste the code that Statcounter generates for your site on to the bottom of all of the pages on your site.